Want to create a professional marketplace like Amazon, eBay Shopify, or Alibaba? Looking to save your time by creating a marketplace with WordPress? Then check out the best WooCommerce front-end multi-vendor marketplace on WordPress 2021.
There are many multi-vendor plugins out there in the market. Sometimes it is difficult to choose one among them. Also, the price of these plugins is costly. It is important to think about features before going to buy.
Enthusiastic and ambitious entrepreneurs always want better options to build the best marketplace they can offer to their customers. We always recommend WordPress as the platform because best and prebuilt platform where you can start this marketplace very easily. Also, WordPress is the No 1 CMS platform.
After our research and also collecting information from many users we have sort down to 5 best WooCommerce multi-vendor plugin 2021.
We are considering some important features to choose the best WooCommerce multi-vendor plugin. Here is the list of some important features.
Mobile Friendliness
Simple signup process
Ratings & Reviews
Vendor Dashboard
Security
Social media sharing
Easy Custom Search & Navigation
Payment gateways
Analytics Dashboard
Top 5 WooCommerce multi-vendor plugin
After considering all the features, pricing, and tool updates we come out with the top 5 affordable, worthy multi-vendor platforms for 2021.
Dokan – WooCommerce multivendor marketplace
Dokan is the best WordPress eCommerce solution to build & manage your dream multi-vendor marketplace.
Dokan provides 99% customer support and it has 1,115,000+ total downloads, 60,000+ active online marketplaces and 60% Less cost when starting out. Massive Dokan Discounts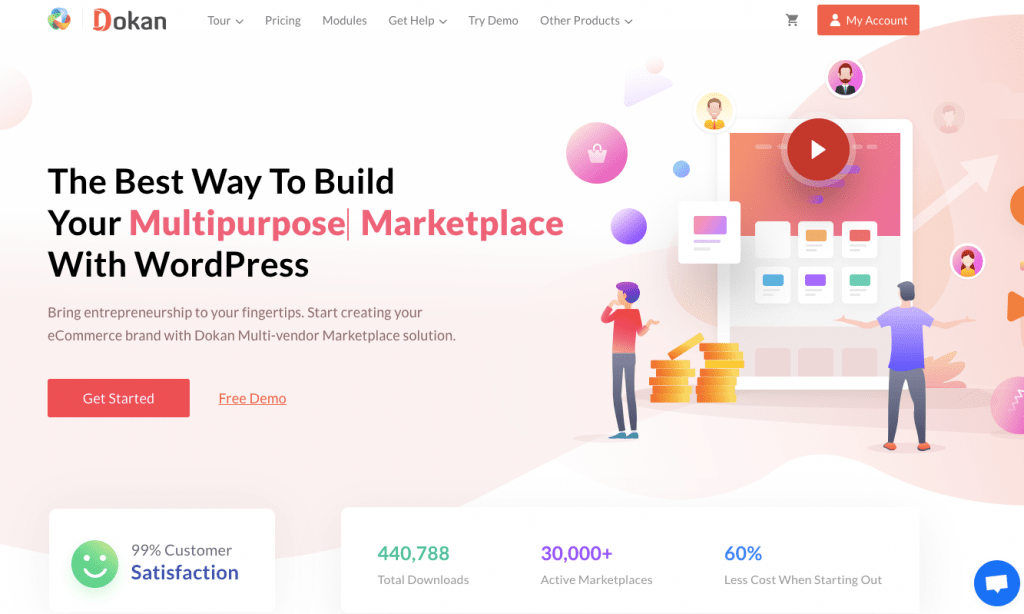 WC Vendors Pro
WC Vendors Pro one popular multi-vendor marketplace in the market. They provide some unique and features.
The pricing is similar to dokan. Massive WC lovers Discounts
WC Marketplace
You can create a complete online marketplace using this WC marketplace WordPress plugin. it provides its core functionality for free and you can purchase extensions if you want frontend capabilities.
YITH Multivendor
YITH Multivendor one good plugin in the market where you can create an awesome marketplace. They specialize in downloadable products. It does not have a front-end dashboard for vendors. You cannot update products from the front end. They provide YITH Frontend Manager for WooCommerce for frontend management.
WooCommerce Product Vendors
The original WooCommerce also provides a plugin with multi-vendor options in it. It provides multi-vendor capabilities to your store, but here only the admin can create or update product details. So it makes it tough sometimes where someone other than admin want to access.
About Author
I am 33 years old. I am an Internet Marketer. Also, I run dropshipping business for the past 9 years. I like to share my experience here and help the people who like to start online business.
Similar Posts: