Coupons are great ways to drive more leads and potential customers in your business. Nowadays, at least 96% of the consumers use coupons to get more exciting offers and discounts on their purchases.
JC Penny has tried to break all the consumers of the coupon habit for 2012, and he has seen a quick 23% of significant drop in the sales for the first three quarters of 2012.
Hence, if a person like JC Penny failed to change the shopping behavior of people, then it is quite impossible for you too.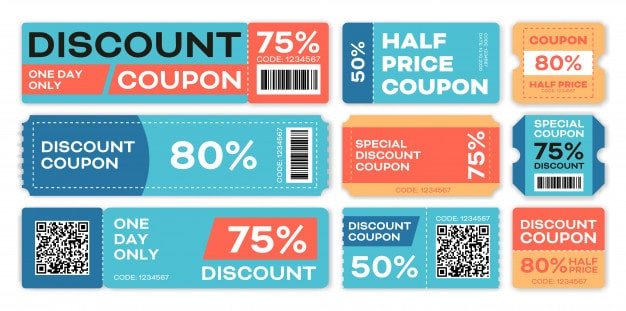 Thus, the question is not anymore whether you should opt for using the coupons or not. But instead of that, it is more about how you can use the coupons in a much strategic way to ensure the growth of your business?
Also read: Everything you need to Know About Promotional Codes. Do they work?
At the same time, you also have to keep in mind that you are not giving up too much from your profit margin.
Cons of Using Coupons
The first and foremost con of using coupons is that they will cost you a significant amount of sum. Any of the discounts that you offer will mean a lesser amount of money to your revenue rate.
The best way is to calculate whether the discount will make any kind of difference to your profit margin while introducing it to the new customers or not.
Also, consider whether this will bring back the old customers to your business who have gone somewhere else in search of the coupons or not.
Jay Goltz, in the Columns of New York Times, Doing the Math on a Groupon Deal, has developed a method for calculating whether or not a coupon discount is worth the profit of your business or not.
Even the most regular customers can acquire the habit of waiting for coupons, which can cannibalize the income that was already being generated before the introduction of the coupon program.
Thus, you need to consider when and how you should offer those coupons to prevent them from affecting your regular customer base.
Coupons will always tend to result in the reduction of profits on an item or specific items which are included in the coupon campaign.
However, there is not at all any change in the cost of the purchase of that product. While considering the value of the coupon campaign for your business, you need to find a way that the discount will end up with the improvement of your bottom line in the coming future.
It is essential to focus more on how to use a coupon campaign in a much strategic way to ensure the growth of your business.
Pros of using Coupons
Though there are some cons that are quite significant about coupons in the business, there are some great benefits too, which is why the trend is quite popular.
The most significant pros of offering coupons include the introduction of new customers to your business. It introduces more products and offers a great way to get rid of all your unwanted inventory to free up more space in your warehouse.
Hence it makes more space for you to store much newer products. It encourages the customers to try a much newer brand that comes as a much more profitable one.
Also, it is simply one of the great ways to get more customers back to your store.
The best way to maximize the advantages of coupons in the new trend of sales strategy is to use them for your customer base.
Coupons can work as a crucial part of your social media marketing that provides you the ease of using them much strategically.
One of the greatest ways to turn coupons into a long-term marketing strategy is to encourage your customers.
Make them provide their name and email address to get the coupon. In this way, you can easily build up a much stronger email marketing base to encourage them to return for the offer of the new products.
If you do not have an online coupon, then you will require them to offer their name and email address to make use of the coupon during the registration.
Another very interesting way to distribute coupons is to use social media websites like Facebook. Make the coupons easy to access for those who like you on your social media.
It will help you to communicate much more easily to build up a free long-term relationship.
While planning for a coupon strategy, make sure you are considering how you want to use the strategy to enhance the scopes for your bottom line.
While using a coupon to drive more traffic to your business, you can encourage those customers to buy other non-discounted products.
Coupons can also be used for encouraging the customers who are coming back to your store after a long time.
You can use a coupon to introduce more new customers to your store. Use the coupon as a way to start long-term communication with your new customers.
Bottom Line
A great way to use coupons is to develop your coupon strategy so that you can know how the discount marketing strategy will increase your long-term repeat business or boost your sales per customer.
Similar Posts: