Are you looking for a unique Elementor widget and Addons? Now get premium elements with stunning design and endless customization options using ultimate addons for Elementor.
Also read: Elementor, which is a site builder for WordPress and makes your website attractive and beautiful. Elementor promo code.
About Ultimate Addons for Elementor
The Ultimate Addons for Elementor is of the highest quality. It has everything for creating stunning, eye-catching designs. The Ultimate Addon is a great collection of widgets for Elementor. The wide array of the widget allows you to find the perfect widget for your requirement and does not disappoint you anytime.
Ultimate Addons for Elementor Pricing
Ultimate Addons for Elementor offers annual and lifetime plans. And each annual plan and lifetime further into ultimate addons plan, mini agency bundle plan, and agency bundle plan.
Ultimate Addons for Elementor Annual Plan:

Ultimate addons annual plan costs $55
Mini agency bundle annual plan costs $169
Agency bundle annual plan costs $249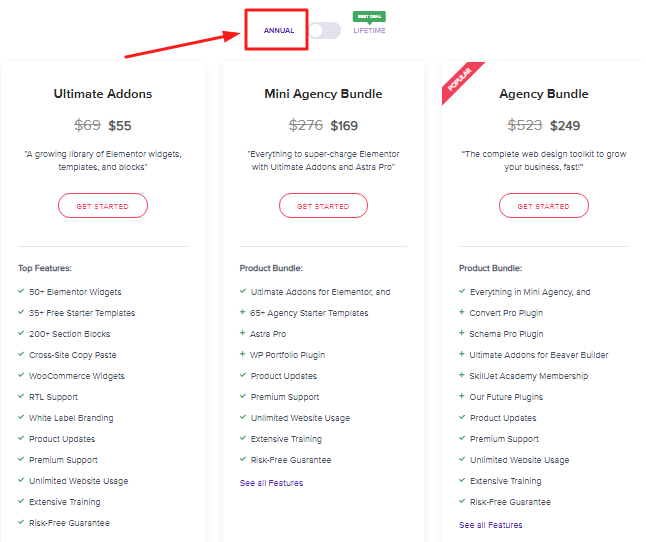 Ultimate Addons for Elementor Lifetime plan:

Ultimate addons lifetime plan costs $249
Mini agency bundle lifetime plan costs $499
Agency bundle lifetime plan costs $699
Ultimate Addons for Elementor Features
Let us take a deeper insight into the features of ultimate add-ons.
Ultimate addons have an array of creative Elementor widget with which you can create some awesomely unique designs
You can choose from 100+ libraries of website designs created by some extremely talented designers. You can also customize this design according to your requirements.
Copy Elementor from one domain to another:
You can save your time by simply copy-pasting your previously created designs.
Keeping your website light:
The architecture of ultimate addons gives you control to switch on and off widgets as per your requirement. This increases the speed and increases the execution of plug-ins.
Powerful endless widget for design possibilities: Following are some of the widgets that Ultimate Addons for Elementor offers you:

Form styler widget– You can match your contact form design with your website design with this.
Mega Menu widget- You need a mega menu for more customer engagement; you can get that from here.
Login from widget- You can impress your client with a branded login page.
Marketing button widget- It allows you to create attractive buttons, including a small catchy line.
Video gallery widget- It allows you to embed youtube and Vimeo videos.
Business review widget- It allows you to import user reviews from google and yelp.
How-to schema widget- How-To Schema automatically to the page to help skyrocket your SEO.
Interactive particle Background: You can add an engaging background with dynamics which is way more eye-catching and interactive than normal backgrounds. This helps you in getting more traffic to your site.
White labeling feature: If you offer website designing services to clients, then you must need to have all the credits for the things done on the website. The white-labeling features enable you to white-label and rebrand all the addons and making it your own creation
Ultimate Addons for Elementor Widgets
UA for Elementor gives you 50+ widget extensions, 200+ section blocks, and even more design possibilities than you can think of for your WordPress website.
Not only that but this add on is extremely light and well optimized. Making sure that it doesn't slow down your website in the process of making your design stand out.
Content Widgets
Social Share
Advanced Heading
Business Hours
Content Toggle
Google Maps
Image gallery
Info Box
Modal Popup
Posts
Pricelist
Table
Video
Video Gallery
Creative Widgets
Before After Slide
Countdown timer
Dual-color Heading
Fancy Heading
Hotspots
Login Form
Marketing Button
Multi Buttons
Navigation menu
Off-Canvas
Price box
Retina Image
Team Member
Timeline
User Registration Form
Creative Features
Cross-site copy paste.
Practice Backgrounds
Form Styler Widgets
Business Reviews
How-To-Schema
FAQ Schema
Table Of Contents
WooCommerce
Woo-Add to cart
Woo-categories
Woo-mini cart
Woo-products
Ultimate Addons for Elementor Alternatives
Ultimate Addons for Elementor is one of the popular custom and creative widgets for Elementor. It is a very effective way to website pages easily, without any web design or coding expertise. However, it might not be everyone's cup of tea, which is why it's worth exploring Ultimate Addons for Elementor alternatives before you commit.
In general, it's hard to fault in Ultimate Addons for Elementor. The below tools offer similar features and performance, along with some of their own advantages.
Envato Elements
Anywhere Elementor
Ultimate Addons for Elementor Review Verdict
So, discussed all the features and uses of ultimate addons for Elementor, you must be excited to try it and experience a whole new world of aesthetic and efficient designing experience for websites.
Similar Posts: